Skip to Main Content
Mr. Ken Smith is proudly serving his second term on the San Felipe Del Rio CISD Board of Trustees as the Place I representative. He is a native Texan born and raised in Amarillo. Texas. He attended West Texas State University and majored in Business. Mr. Smith is a general manager for Howmet Aerospace in Del Rio/Cd. Acuna. As a community member and leader, Mr. Smith has served as committee chair for Cub Scouts Pack 222, Board Member for the Del Rio Chamber of Commerce and the Del Rio National Little League, and has participated in bilateral community support for Cd. Acuna and Del Rio.
Mr. Smith currently serves on the Finance and Operations Committee and has been instrumental in supporting STEM pathways for students. "As board members we recognize the important role we play in supporting educational programs that contribute to our community's future workforce. This support could be beneficial for both our local employers and the graduates they hire." Mr. Smith's term on the Board expires in 2024.
Credibility, Passion, Intimacy = Growth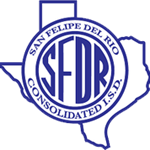 San Felipe Del Rio CISD Adopted a Tax Rate That Will Raise More Taxes For Maintenance and Operations Than Last Year's Tax Rate.