Skip to Main Content
Ms. Diana Gonzales serves on the San Felipe Del Rio CISD Board of Trustees as Board Secretary. She was re-elected to her third term as the Place VI representative in 2020. Ms. Gonzalez serves on the Board Policy Review Committee. She has also been active in her role as the Board Delegate and Alternate in the 2019 and 2020 TASB Delegate Assembly; and in 2019 represented Texas in the National School Board Association (NSBA) Advocacy Institute which focused on unifying district leaders nationwide on key advocacy priorities on education.
Ms. Gonzales is a retired educator who has taught in the San Felipe Del Rio CISD and at Southwest Texas Junior College; and a retired journalist who has worked for newspapers in Del Rio, San Antonio and Yakima, Washington. "My vision for the school district is to ensure that students will be able to 'survive and thrive' in the 21st Century. They should be encouraged to use their knowledge and skills by thinking critically, applying knowledge to new situations, analyzing information, solving problems, and making decisions." Ms. Gonzales's current term on the Board expires in May 2024.
If a man does not keep pace with his companions, perhaps it is because he hears a different drummer. Let him step to the music which he hears, however measured or far away
– Henry David Thoreau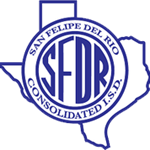 San Felipe Del Rio CISD Adopted a Tax Rate That Will Raise More Taxes For Maintenance and Operations Than Last Year's Tax Rate.