Skip to Main Content

San Felipe Del Rio CISD's Athletic Program takes pride in providing opportunities for athletes, teams and coaches to reach their highest potential both on and off the playing field. Our educational commitment is academics first and then athletics. We strive to model and instill in our athletes accountability, responsibility, respect, dedication, commitment to a cause, and the belief that there are no short cuts to success. The team concept in competitive sports provides many opportunities to learn and apply to life skills such as trust, working together, communication, and reaching our physical and mental limitations and abilities.
San Felipe Del Rio CISD offers a variety of sports activities for young athletes at the Middle School level such as football, volleyball, basketball, tennis, cross-country and track.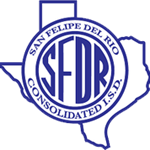 San Felipe Del Rio CISD Adopted a Tax Rate That Will Raise More Taxes For Maintenance and Operations Than Last Year's Tax Rate.