Skip to Main Content

San Felipe Del Rio CISD's Early College High School is a college preparatory dual enrollment high school program strategically designed to fulfill and exceed college and university admission requirements. It is an academic program intended to enable students to pursue post-secondary education at a community college, four-year college, or university. ECHS is the creation of a strong and influential college bound culture with high expectations for all students
The program is structured to provide successful, challenging, and meaningful experiences for students. Students are offered not only the opportunity to earn a high school diploma and meet university entrance requirements, but they also take college courses though Southwest Texas Junior College (SWTJC) and Angelo State University (ASU) for which they receive college units through dual enrollment.
ECHS has a maximum population of one hundred students per grade level, allowing for smaller class sizes, frequent opportunities for individual participation, and personalized attention from faculty and staff.
By changing the structure of the high school years and compressing the number of years to a college degree, Early College High School improves graduation rates and better prepares students for entry into high-skill careers.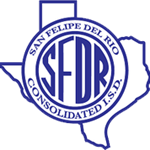 San Felipe Del Rio CISD Adopted a Tax Rate That Will Raise More Taxes For Maintenance and Operations Than Last Year's Tax Rate.