Skip to Main Content


Technology Department
The technology department provides and supports technology-based solutions to promote student achievement and enhance staff productivity.
Campus Visitors
San Felipe Del Rio CISD has implemented the use of the Keep-n-Track security system as a way to enhance safety at the campus level.  Visitors and parents must check in with the main office and provide identification in the form of their Drivers License or Passport.  The system will then produce a visitors badge electronically checking all visitors against registered sexual offenders databases.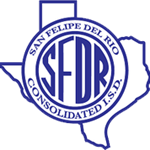 San Felipe Del Rio CISD Adopted a Tax Rate That Will Raise More Taxes For Maintenance and Operations Than Last Year's Tax Rate.