Skip to Main Content

Objective
The purpose of the Payroll Office is to process all payments to employees as a direct result of employment at San Felipe Del Rio Consolidated Independent School District in the most accurate, efficient and timely manner possible, while maintaining compliance with all federal, state and local regulations.
Payroll Check Statements
Direct Deposit is mandatory for all district employees.  Full Time employees can access their check stubs on Skyward Employee Access.  Check statements are mailed out for all substitute/temp employees.
Pay Dates
Regular semi-monthly payrolls are released on the 15th and 31st of each month. If the 15th or the 31st falls on a Saturday or a Sunday, then the release date is the preceeding work day.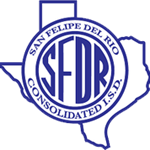 San Felipe Del Rio CISD Adopted a Tax Rate That Will Raise More Taxes For Maintenance and Operations Than Last Year's Tax Rate.