Skip to Main Content

Master Reading Teachers for Elementary Education
Mission
To systematically move forward together to ensure the best quality education for all students.
Philosophy
It is imperative that the District provides educational opportunities that will enable each student to develop to his full potential the knowledge and skills, and competencies that are needed to become a responsible member of society.
The elementary department works to ensure a complete alignment between the written curriculum, based on the Texas Essential Knowledge and Skills (TEKS), the taught curriculum, based on the TEKS Resource System, and instructional resources, and the tested curriculum, from campus assessments to district benchmark assessments to the State of Texas Assessments of Academic Readiness (STAAR) grades 3-5.
In addition, professional development aligned to the Planning Protocol is offered throughout the instructional year and in the summer to allow teachers the opportunity to improve their instructional practices.
Elementary District Initiatives
Planning Protocol Dashboard
Writing Initiative
Power Hour
STEM 2025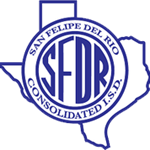 San Felipe Del Rio CISD Adopted a Tax Rate That Will Raise More Taxes For Maintenance and Operations Than Last Year's Tax Rate.