Skip to Main Content

Gifted & Talented Program
SFDRCISD K – 12TH GRADE
It is the intention of the San Felipe Del Rio CISD to provide a program of quality, equity and accountability for academically talented students in compliance with state and local requirements.
The Gifted & Talented (G/T) Program for SFDRCISD is designed to meet the needs of those children who are identified as having superior intellectual abilities or potential for outstanding academic achievement.  It is acknowledged at the onset that these children are found in all races, socioeconomic groups, and at all levels of society.  It is incumbent upon the school system to meet these students' special needs and prepare these students to deal with the challenges of a rapidly changing society.  It shall be the philosophy of the District to provide opportunity within the educational program for each individual to develop to the fullest of his/her capacity.
The District follows all rules and guidelines of the Texas State Plan for the Education of Gifted/Talented Students, revised September 2009.
Advanced Academics Documents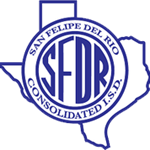 San Felipe Del Rio CISD Adopted a Tax Rate That Will Raise More Taxes For Maintenance and Operations Than Last Year's Tax Rate.