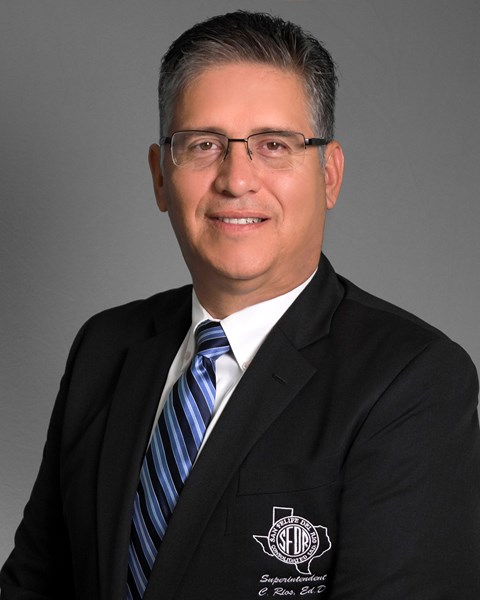 Carlos H.Rios, Ed.D
Office of the Superintendent
San Felipe Del Rio CISD
Del Rio 428002
Phone: (830) 778-4007
Fax: (830) 778-9960
Notes From The Superintendent's Desk


September 16, 2019
There are moments in time that you look forward to, thoroughly enjoy these moments when they are happening and absolutely don't want them to end.  For a family, it might be a family reunion; for individuals, it may be a wish come true, and for an organization, it may be the realization of a goal.  For SFDRCISD, this past week certainly felt like a family reunion, a wish come true, and the achievement of a goal.  It really was awesome.
With staff development happening everywhere, the start of this past week could not have been any better.  At the elementary level, it was all about taking on difficult work. It was about implementing a new reading block and extending our math curriculum down to second and up to sixth grade. All this is challenging work, but it is work worth doing.  As a matter-of-fact, anyone can engage in this most critical work.  The very soul of this country depends on our ability to develop young minds into bright minds.
In a presentation to Superintendents, the Commissioner of Education indicated that teaching specific components of reading (sight recognition, decoding & phonological awareness) really is rocket science.  He then discussed the tremendous need for staff development and indicated that within the next 24 months, every elementary reading teacher would complete a Reading Academy.  Knowing that our District won a Reading Excellence and Academic Development (READ) grant this past year, that our reading block is modeled after the READ model, and that so many of you have already participated in a Reading Academy was reason enough to smile and enjoy the presentation. Did you know that only a handful of Districts (7 to be exact) were awarded the READ grant?  We are way ahead of the game!
Later on, in the week, I heard so many positive comments about the pay raise provided by our Board of Trustees and immediately coupled the increased pay with the Commissioner's remarks.  It is a wish come true when legislators and state officials have noted that the work educators are engaged should be appropriately funded.
The week ended with our community coming together to support our Rams on Friday and participation in the first annual Adventure on the Creek race on Saturday.  Our Rams aren't quite there yet, but we can see all the pieces coming together in preparation for District competition.  I predict our Rams make it to the playoffs and enjoy lots of success as we round out the season.  No pressure, Coach Taylor!
The Adventure on the Creek was just like a family reunion.  It was awesome! All that was missing was the BBQ and watermelon.  Teams, along with their fans, from just about every school, bank and law enforcement agency participated.  There were some pretty fierce individual competitors as well.  Kudos to SFMMS, I believe they had four teams participating at this event. 
The Adventure Race allowed us to come together as a community in an impressive way, showcase a beautiful community park in south Del Rio, enjoy our fabulous San Felipe Creek and raise some funds for the Education Foundation.  It was so much fun!
In closing this blog, I want to encourage every one of you to take note of all that our Del Rio community, and especially our school district, is accomplishing.  Whether we are going after grants, increasing the experiences for our students, building leaders, or raising funds; the truth is that we are succeeding.  Everyone is winning.  Let's celebrate all of this.  Yes, a lot of the work is tough, but if it wasn't, then anyone else could do it.  We are so much stronger together.
The Champion is absolutely the one that crossed the finish line first.  However, time and other races will quickly obscure that accomplishment. The True Champion, that will forever be remembered, is not the one that finished first, but the teacher, coach, mentor that made it possible for someone to cross that finish line Carlos Rios