Skip to Main Content
Mr. Alfredo Contreras currently serves as the Place V representative for the San Felipe Del Rio CISD Board of Trustees. Serving his first term as the Place IV Trustee Member, Mr. Contreras is a member of the Finance Committee and Operations Committee.
Mr. Contreras has served the community as Postmaster for Val Verde County. As a community member and leader, Mr. Contreras has also served as councilman for the City of Del Rio. Dr. Martin Luther King, Jr. once said, "Life's most persistent and urgent question is, What are you doing for others?" "At board meetings, I make every effort to put the interest of the community's students first. It brings a great deal of satisfaction when we (the Board) make decisions that support programs and contribute to the greater good".
Mr. Contreras's term on the Board expires in 2022.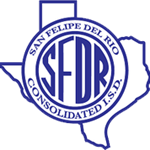 San Felipe Del Rio CISD Adopted a Tax Rate That Will Raise More Taxes For Maintenance and Operations Than Last Year's Tax Rate.